A Tourist in my own Country
27/07/2018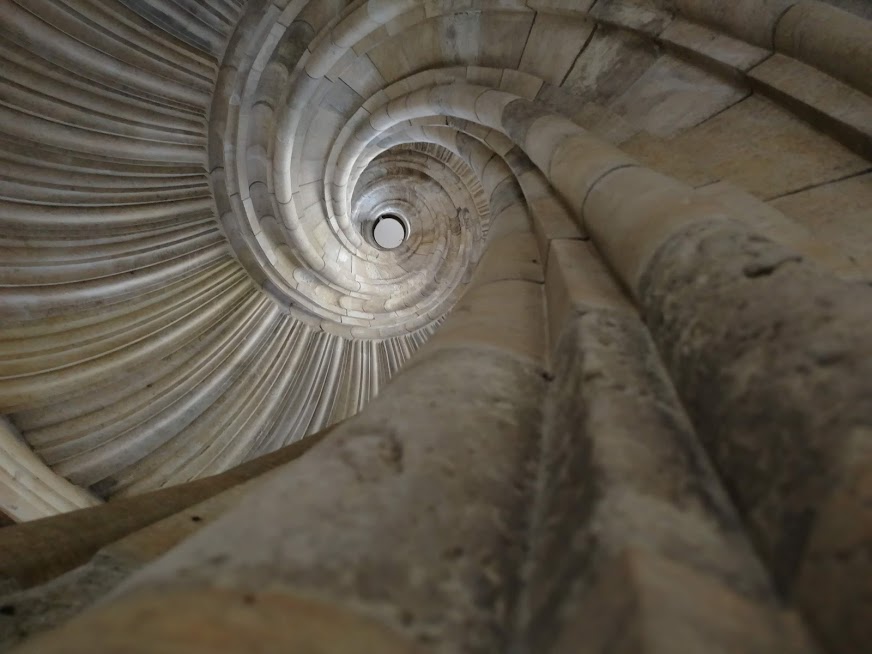 From Backpacking to Bag-packing
When I was planning our vacation this summer everything was different. I was never exactly a globetrotter but travelling to me had always been adventurous rather than luxurious, i.e. I preferred a tent or hostel over a Spa hotel and using my bike instead of the car. I was also quite relaxed when it came to the planning in advance. Hence, not every single part had to be pre-booked, but I liked to be flexible, waking up in the morning with nothing more than a rough idea where the journey was supposed to go that day. Even though I am not a very spontaneous person, vacation used to be that time of the year when structure and detailed planning was left alone.
Going on your first family vacation with a 1-year old is a different story altogether. Being well organised and prepared as best as you can, becomes essential. It all starts with picking a suitable destination, which seemed to be the smallest challenge of all though, as we decided to go to Germany for various reasons. First of all we could skip the familiarisation phase, secondly I haven't really introduced my husband to the nice vacation areas of my home country and last but not least there would be a chance of the odd date night as soon as we get to my parents' house.
A slightly bigger challenge was getting all the essentials packed and transported while using as little space as possible. I have always been a "light traveller" and took pride in cutting the things that I needed on vacation down to the bare minimum in order to fit it into a tiny single bag. This was unfortunately not possible anymore when travelling with a baby . However my packing skills came in handy with folding, squeezing and stuffing everything into what was now three medium-sized suitcases.
The biggest challenge of all was finding the proper accommodation for a couple of days before we got to my family's house. Whereas I had something simple and quiet in mind, my husband luckily pointed out that we should choose somewhere with lots of indoor activities for ourselves and the little one in case of bad weather. Furthermore we had to take into account that we were restricted to the range of the baby monitor after 7 p.m. With all the focusing on our youngest traveller, we also wanted to make sure that the trip was a change of scene for us too. Thus we were looking for a family-friendly holiday park with basically all amenities under one roof – a category that I had always avoided so far when planning my vacation…
Who let the Cow out
We found a lovely holiday village called Dorfhotel Fleesensee at the Lakelands Mecklenburger Seenplatte North of Berlin. Our expectations were even exceeded when we got there at the end of June. On the way to our apartment, pulling our luggage plus child in a handcart behind us (brilliant idea!), we stopped at a tiny merry-go-round to be operated by the kids themselves – the first highlight for our little holiday-maker. With all that "excitement" going on there was no point in putting him to bed and so we all enjoyed a welcome cocktail at the bar to start our vacation. Thrilled about the attention to detail inside the apartment and its surroundings, we were looking forward to the upcoming week in our apparently well chosen holiday domicile.
The "awakening" literally came in the morning while we were having a relaxed breakfast when a huge dancing "cow" walked in to gather all the kids for the club dance that seemed to take place every day. My husband and I exchanged looks with an awkward smile and without saying a word we knew what the other one was thinking. Instead of endless party nights with loud music we were now exposed to almost the same level of noise in a crowded breakfast room and the entertainment came in form of a life-size mascot singing jolly children's' songs. Our son loved it…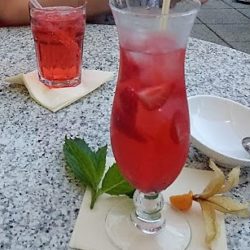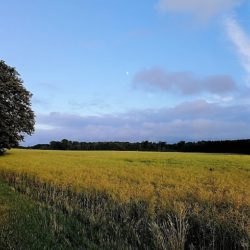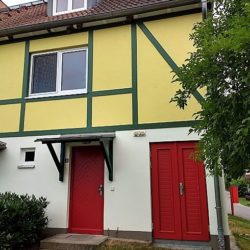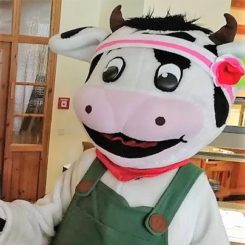 Family-friendly is a Matter of Perspective
Another selling point for this particular accommodation was the fact that childminding was included. A topic that I had been avoiding in the last 14 months since our little boy was born. There was no better time to try it out than here and now –  in a super child-friendly environment with a relaxed mammy in vacation mode. The kids club looked great with lots of toys and pro-active, helpful staff. Junior was immediately immersed the minute we walked in and we signed him up for 3 hours. I was relieved to see him running (well, crawling) off so light-heartedly. On the other hand it made me feel slightly heavy-hearted seeing him drawing bigger and bigger circles.
Anyway, we enjoyed a couple of hours in the Spa next door and encouraged by not hearing anything from the childminder, planned a Squash match for the next morning straight away. Next day around, same plan, so far so good… We hadn't even made it to the Squash court when the phone rang. I could hardly hear that it was the girl from the kids club since the very upset cry of our son in the background was almost drowning out her voice. It turned out he wasn't happy at all with the situation today and we made our way back to pick him up. It was as if he wanted to tell us that "family-friendly" doesn't mean that activities were taking place without him. Hence our trio was complete again from now on and the family-friendly vacation became a family vacation which everybody enjoyed.
Topsy-turvy World
Whereas the heatwave caused a hose-ban in Ireland (people were asked to report their neighbours when they caught them watering the garden), temperatures in the German Lakelands weren't climbing high enough to take advantage of the many gorgeous lakes surrounding us. Whilst there was plenty of other stuff to do, I had been picturing us sitting on the beach and going for refreshing swims at least once. Just at the time of our departure and while we were getting ready for a 4-hour car journey, the sun came back splitting the stones. Not only had me worrying for weeks how we would survive without air condition in a holiday home in over 30 degrees, been in vain; we also had missed the only week in Ireland ever, when temperatures were higher than in most parts of Europe. Nevertheless, it wasn't the end of our Germany trip yet and we were looking forward to spending the next few days with my family.
The Story with the Potatoes
While my husband was driving I was looking for somewhere to stop along the way. Besides just having a break I wanted it to be a must-see, something to make my husband want to come back. While I was still thinking where or what that could be, the motorway exit sign for Potsdam popped up. Yes, perfect place and perfect timing – I decided to show my husband the Palace of Sanssouci which had always impressed me as a child and was usually on the agenda when my parents had visitors from abroad. So the decision was made – we were heading for Sanssouci and I wanted to be a good tour guide and give my husband a few details about its history, architecture etc. All I knew though was the fact that there was always potatoes lying on the grave slab of Frederick the Great in the park of the palace. When my husband asked why that was, I answered without hesitation: "Well, because he was the one who invented them". My husband just stared at me in silence and once again I had proven to everybody that despite being from Germany and a tourism expert, I was the worst tour guide ever.
Letting go
The time in my parents' house was easy-going and quite relaxed. We finally got our hot summer days as anticipated and their spacious garden was perfect for us to withdraw and unwind. The feeling that I constantly had to check on our little one slowly started to shift. Whenever I turned my head to check what he was up to, I was re-assured that he had my parents' full attention. It was a great feeling to be able to just get up and leave for a second without scanning the environment for possible hazards beforehand. It took me a while to get used to it though. Over the next couple of days I got braver and my husband and I managed to go out for grown-up time twice. Thanks to granny and grandpa!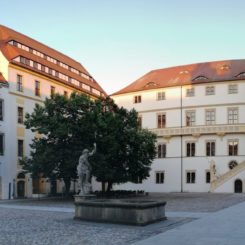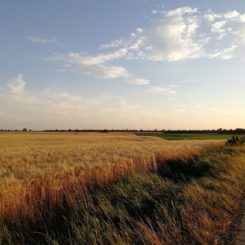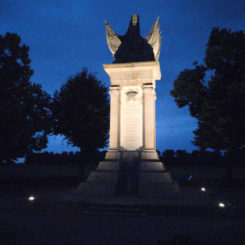 When you realise that your hometown isn't home anymore
Being back in my hometown Torgau makes me feels somewhere between being a guest in a familiar environment and travelling back in time. All excited I was showing my husband around, brought him to places that used to be special to me and that were full of old memories. When we went out for dinner and were looking to get out some cash beforehand I was aiming for the big wooden door of the 24hrs-bank that had always "saved" me when I ran out of money during our weekly pub crawls as a teenager. When the door wouldn't open as usual I checked the sign outside that said the branch had been closed down in 2017. You might imagine that an ATM closing down wouldn't affect you in any way, but I was a bit startled since it had always been there. I used to run in here in a hurry before meeting a friend for coffee next door. I had come in here tipsy having difficulties keying in my pin. I would wait in here during the winter when it was too cold outside. And now it was gone. It closed down about a year ago which meant that it's been longer since I had been here trying to get in. Time flies.
However we had enough cash left to go for a drink in one of my old locals. The lovely beergarden and unspoilt view over the river Elbe was still the same. The people weren't. Well, I guess it was their local now. I hadn't been in there in such a long time  that I didn't spot one single familiar face, except the owners' ones. But when we sat down I heard the very familiar local dialect and I turned around to the people at the table next to us to ask them something. When I didn't catch their reply in German and asked them to repeat it, I heared somebody else say "You have to speak English, they don't understand you", I was baffled for just a second. I have never felt more like a tourist in my own hometown than in this precise moment.