Content Writing
Blogging to my Heart's Content
I discovered quite early that I was passionate about writing and playing with words. Paired with my vivid imagination, I made up stories and put them to paper when I barely knew how to spell. Only slighlty older I became interested in foreign languages and wanted them to be part of my daily work life. Eventually I studied Tourism & Leisure Management and worked in the Irish tourism industry for many years. Since being a full-time mom, I have developed a freelance copy writing career for mostly tourism-related content. I consider my Ireland & Mammy Blog as my playing field where I work on topics that interest me and experiment with different writing styles.
I certainly don't write to please an audience, but purely to satisfy my own desire for expressing myself. When starting a new blog post I don't even know myself where the  journey is going to take me. That is what I enjoy about it. Of course it somehow features my life as a German expat and stay-at-home mom and the experience I have had in and with Ireland so far.
When it stays quiet on my Ireland & Mammy Blog for a while I am probably working on my Food Blog or my first novel :-).
If you are as curious as I am where my writer's journey leads me to, subscribe to my blog. Feel free to leave me your feedback or a comment on my posts!
How can I help you?
If you are passionate about something you do it well. At least you are willing to work on it until it reaches the level of perfection you are happy with. This is exactly how I work. And people who I have worked with appreciate that about me.
I have specialised in Content & Copy writing, mainly for travel and tourism related topics. However I also worked on other projects of which you can find my references below amongst others. My portfolio comprises travel itineraries, website content, newsletters, brochures and logos. Besides I am experienced in designing websites based on content management systems, such as wordpress. Whilst I do most copy writing in German, I do translations and proof reading from English to German.
Are you looking for advertising content in German or English? Do you need help with translating marketing materials from German into English or require a German proof reader? I can help! Please do not hesitate to send me a message or an email to blog@greeniscolourful.com!
Looking forward to hearing from you!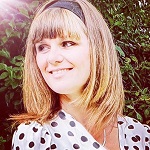 Chat soon,
Sylvia
"I personally love your work, you have a great skill, and I would be happy to work with you long term."
(German Voice-Over Scripts Attractions in Munich)
Subscribe to Blog via Email