Greystones on Kris' "Secret Map"
14/01/2021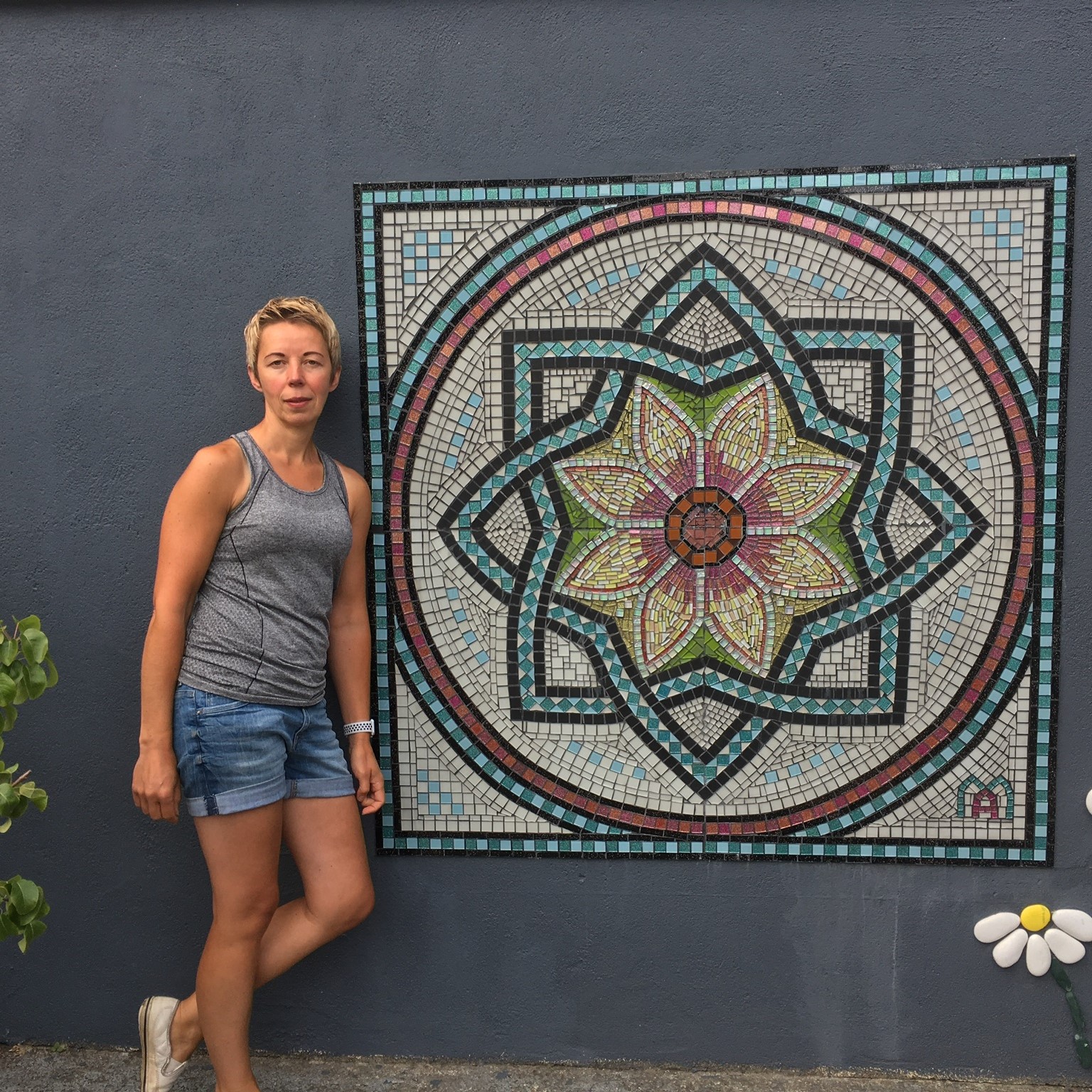 Hands up who needs Therapy?
My "Foreigners of Greystones" articles usually start with how I met the person I am writing about. In this case I will have to reveal a lot more about myself than I feel comfortable with. But here we go.
Hands up who has never seen a therapist in his life for one reason or another! Nothing to be ashamed about right? On the contrary. You always hear in the media that people should be more open with topics like anxiety and depression in our society. But when it concerns you personally it is a hell of a lot more difficult to talk about it or even admit you are experiencing it yourself.
That is what I am herewith doing. Well, admitting it, not talking about it. The focus of this article lies on Kris as another "Foreigner of Greystones" and not on me after all.
Hypnotising Kris
So what does Kris have to do with my mental health? I stumbled across Kris' website when I was searching for hypnotherapists in the area of Greystones. I had always wanted to try hypnosis in addition to a conventional behavioural therapy. And there she was, showing up in my online search, right at my doorstep. An opportunity that I couldn't miss.
Our meetings were just on a professional level. But still, I liked Kris very much as a person and her kind and reassuring way of talking. After my final session I felt comfortable enough to ask her about the art work I had spotted all around the therapy room. Amazingly colourful mosaics done to an absolute level of perfection. I almost didn't believe they were handmade as I couldn't spot a single irregularity in them.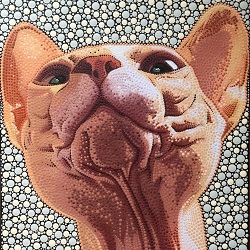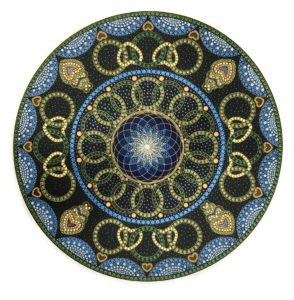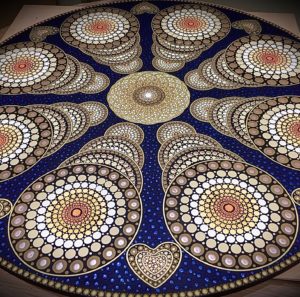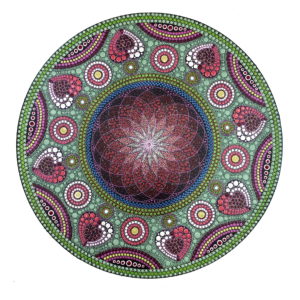 Perfect relaxation
I learned from Kris that this is what she does to unwind. Hard for me to imagine. To create her mandalas, contemporary abstracts and animal motives, Kris uses a special technique called dotting or pointillism. To me it seems anything but relaxing because it requires absolute precision. Something that I aim for, but that occasionally drives me to distraction. One possible reason for me needing therapy…
Holistic Approach
When I started my "Foreigners of Greystones" series I knew straight away that I wanted to include Kris. Besides her fascinating art, Kris' educational background and career path intrigued me. Kris studied different health science fields such as pharmacy, toxicology, diet & nutrition as well as psychotherapy. All of which I benefitted from whilst being in therapy with Kris. I valued her holistic approach considering dietary and physical components in addition to mental health.
Change is Good
According to her philosophy of life, Kris' website where she offers her therapeutic services, is a called changeisgood.ie. Similar to Farzanas life motto, who I wrote about in my previous "Foreigners of Greystones" article, Kris believes that things constantly change and to use that to your advantage.
I personally have problems with change. I don't think change is bad. But I am very much a creature of habit and have troubles with getting used to new things. However I did take some serious leaps of faith in my life one of them being emigrating to Ireland.
I agree with Kris that the way we see things changes over time as we get older and hopefully wiser. "Our philosophy of life is probably based on our beliefs, moral code, life experience and expectations. I would say – being authentic and accepting everything else as a part of my own development and growth is the most fundamental part of my philosophy. Being the best example of my own beliefs and teachings is important," Kris says.
Foreigner Status as Icebreaker
Learning how to be authentic and accepting myself are probably two reasons I started therapy with Kris in the first place. It might sound ridiculous, but with Kris being from a different country and a non-native speaker like myself, I felt more comfortable talking to her.
It also was a great ice breaker talking to Kris about her home country. A country that brings back fond memories of a summer camping holiday many years ago. I got to travel there before it became a trend destination for numerous holidaymakers. It was far from lacking a touristic infrastructure at the time, but I still felt I got to see the real thing. Something you will know is really important to me, when you have read my article "Abandoned in Ireland" .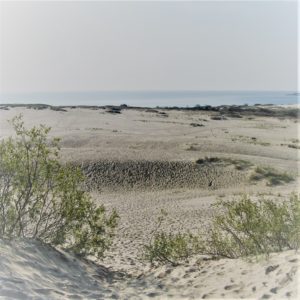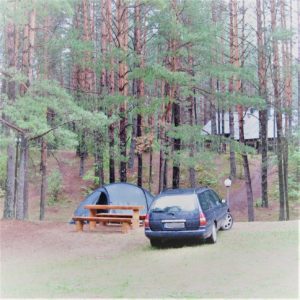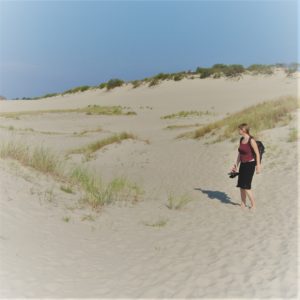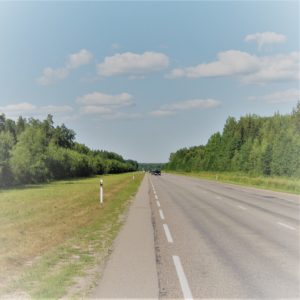 Golden Beaches full of Amber
"Lithuania has unique golden sand beaches full of amber, amazing pine forests with silvery moss carpets, sand dunes surrounded by the sea from two sides. There are charming authentic straw roof villages protected by UNESCO, still not touched by a disturbing commercial invasion. Cities are small but charming with loads of stunning historical and architecturally interesting buildings. Not to forget the old narrow streets and inviting small restaurants and coffee shops." This is how Kris summarises the highlights of her home country.
Once-in-a-Lifetime-Experience
Althought I was only in Lithuania once for a short holiday in 2006, it is exactly how I remember it. Especially the 'golden sand beaches' and the Curonian Spit in particular are something that I will never forget. My grandmother's friend had always been talking about the almost 100km long sand dune that separated the Curonian Lagoon from the Baltic Sea Coast. She grew up close by in Nidda and was expelled after WWII together with the rest of the German population. That didn't stop her from talking of it in glowing terms.
The endangered strip of golden sand is a UNESCO World Heritage site and rightly so. I consider myself lucky having seen it and having been able to walk on this unique natural site that stretches from 400m in width up to almost 4km. (We were told the dunes might be closed off to visitors in future in order to prevent them diminishing.) Whilst it was like a race to get to the only campsite nearby and secure one of the precious spaces for the night, the beach itself was almost empty when we visited it early the next morning. A truly unforgettable experience!
Kaunas – A Place to Study and Live
Besides the unspoilt, beautiful landscape, I was very impressed with the cities in Lithuania too. When Kris told me she was from Kaunas, I roamed through my old photographs which mirror what Kris says: "My native Kaunas is the second largest city in Lithuania known for its fine architecture (city of design by UNESCO). It is very rich with unique museums, stunning cathedrals and theatres. It's also an academic city with many great universities including the best medical university in Eastern Europe that I had the privilege to graduate from."
"94% of its citizens are ethnic Lithuanians which is quite rare for a modern European city", Kris continues. This indeed is a fact that surprises me. I am sure over the next couple of years and with Covid hopefully out of the way, more young people will discover Kaunas as a place to study and live.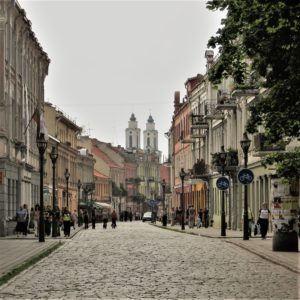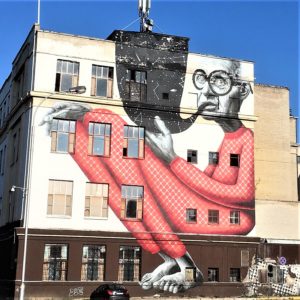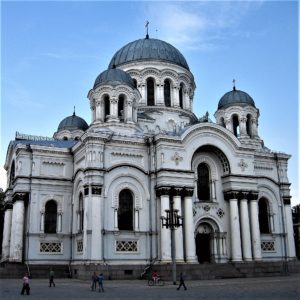 "I looked at Google and chose Wicklow"
Having said that, I asked Kris why she had left Kaunas to come and live in Ireland and how she chose Greystones.
When Kris decided to take a break from her work in a big Lithuanian medical company, she chose Ireland more or less by chance. The same way I picked it due to the fact that it was a small, English-speaking country in Europe, Kris had chosen it many years before me for these very reasons. In fact 19 years ago. Whilst it took me a while to find my place in Greystones, Kris' "secret map" – as she calls it herself – had laid out Greystones for her right from the start. "I looked at Google and chose the 'County of Gardens' – Wicklow," Kris tells me. With meeting her husband soon after, her final destination had been decided.
The Rootlessness of Immigrants
Being drawn to another country as Kris was to mystic Ireland, is in many ways better than wanting to get away from your country of origin. Nevertheless it doesn't prevent you from feeling rootless as Kris describes it: "It was a scary feeling that every (I believe) immigrant experiences – not having any 'roots' in this strange new soil. No family to call for a dinner on Sunday, no close friend to chat with over a cup of tea, no sentimental place to go when you feel lonely. Knowing that you'll never bump into some old school friend on the busy street or walk by a shop window that still reminds you about that special sentimental moment. Your past becomes nearly irrelevant. You're starting from a blank page."
Fast Food and No Mixer Taps
My favourite "Foreigners of Greystones"-question or answers respectively are the ones about the biggest cultural shock in Ireland. They are usually quite funny and most of the time I can relate to them. Kris remembers it as follows: "Regarding cultural differences, of course, many things were so strange and most of them made me laugh rather than upset! I had some fun learning how to use a sink with two taps – one with ice cold and the other -with boiling water, two story buses manoeuvring in narrow busy streets seemed unreal, amount of junk food places was overwhelming (we had only one McDonald's at the time I left the second biggest city in Lithuania)." The absent mixer tap in our kitchen sink still causes disapproval every time my parents come to visit. Interesting to hear it is not only a German obsession after all.
No Summers, No Winters
The Irish summers – or rather the lack of them – seem to be a challenge for most foreigners coming to live in Ireland. For us "Foreigners of Greystones" however not a reason to quit. Rather something we get used to – maybe by taking it with the Irish sense of humour: "When I call to my parents", Kris says, "we always have fun discussing the weather. If I ask about the weather in Lithuania in winter time, they typically say – very mild, no winter this year. That means the temperature is 'only' minus 10 degrees. When I say to them in summer that we are having very hot weather in Ireland with 20 degrees, they look at me with sympathy meaning – no summer again this year in Ireland!"
Learn, Learn, Learn
Whilst this is a quite humorous way of dealing with the sometimes dreadful Irish weather – especially compared to continental Europe – it is all about acceptance. Accepting your country of choice for what it is and fully embrace its otherness. Otherwise you will never settle in at all. A very valuable advice from Kris to emigrants-to-be:
"[…]they should know that once they made a decision to make another country their home, everything in that country should concern them. There is no 'us' and 'them' anymore. Many immigrants that I know through my work, don't feel comfortable socialising with locals or actively participating in many areas of life and they use cultural differences as an excuse. My best advice to them – learn learn learn! Language, history, culture and traditions of the country that is your home now! The result is always rewarding as you will find something new and amazing all the time."