Living like the Carmenites – Family Vacation in Ireland
11/09/2020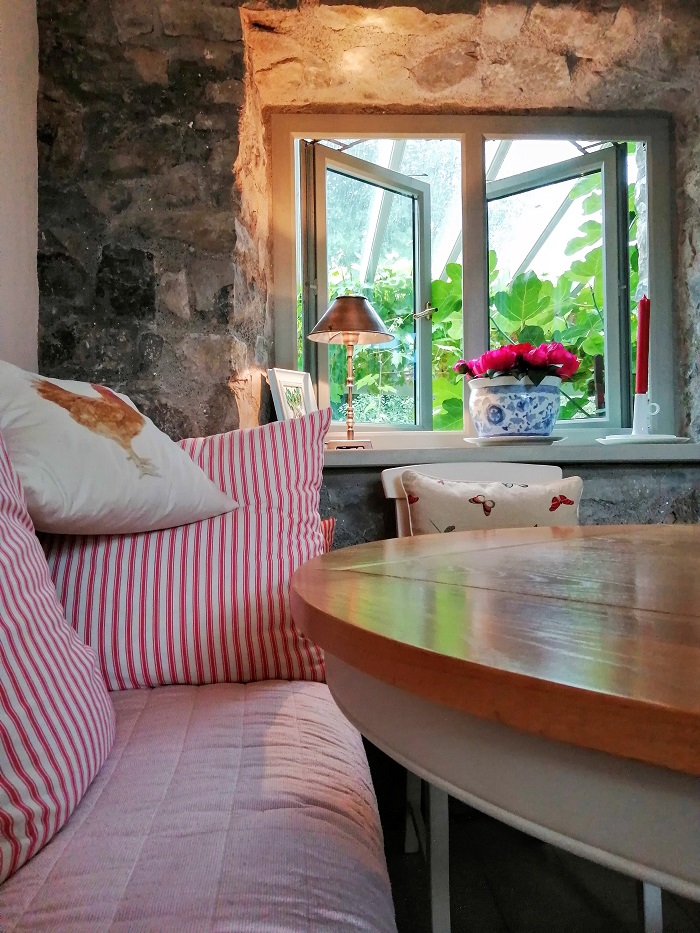 Confused by the headline and thinking of calling me out on my apparent typo? Well, it is not a typo and I deliberately wrote 'Carmenites' – double meaning desired. Even though it involves some spirituality, we didn't enter a monastery or found a new order on our family vacation in Sligo. We did discover a fascinating lifestyle though. But first things first.

Staycation in Ireland
Like most people in Ireland we didn't have much of a choice but spend our summer vacation on the island due to the Covid regulations. So, we knew quite early on that the 2-week trip to my family in Germany was not going to happen this year. Apart from missing out on a family reunion, spending our family vacation in Ireland was not the worst that could have happened to us. In fact we were pretty excited to bring our kids on our first real family vacation with the four of us.
However it turned out to be a bit of a challenge to find an accommodation last minute that was suitable for ourselves and our friends we were planning to travel with. They also had 2 kids the same age as ours  (3 years & 11 months) and therefore we were looking for something spacious with 4 bedrooms. The new trend "Staycation" apparently still involved travelling rather than staying at home like the term might suggest. So we didn't have any luck at all finding what we were looking for.
I am getting baptised!
Confusing headline again? Stay with me, it still is all about our family vacation in Sligo.
Many times before I had turned to a 'higher power' to ask for things I wanted or didn't want to happen. The turnout had been pretty impressive. I am not only talking about minor things like finding a holiday home, but big life-changing events. When one of the biggest miracles in our life happened last year my doubt in God began to totter.
When I told my husband John that it wasn't looking good regarding a place for our spontaneous family vacation he said a silent prayer. He was desperate to get away for a couple of days after a rough time in work and months in his Home Office during Lockdown. In fact we had both been looking forward to a break and a change of scenery as well as spending some time with friends. We would have been very disappointed if we had to stay in our own four walls for our family vacation.
Family Vacation Miracle
After days of browsing the web for a self-catering cottage without any luck, this dream house popped up in my search. All of a sudden, completely out of the blue. It was too good to be true. The pictures looked absolutely stunning and it seemed to be even better than what we had been hoping for. I couldn't believe when I saw that the 4 nights we had planned to travel were the only dates available in the upcoming weeks. Suspecting a technical glitch, I tried not to get my hopes up just yet.
I knew John's prayers had been answered when I received the booking confirmation shortly afterwards. I was delighted and astonished at the same time. Once more something we had so desperately wanted worked itself out miraculously.
Now it was my turn to keep my side of the bargain. Fair is fair. Finding this absolutely promising holiday home had finally tipped the scales in favour of my baptism. And it wasn't going to be the only miracle that happened throughout our family vacation.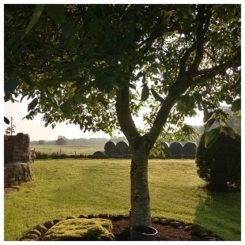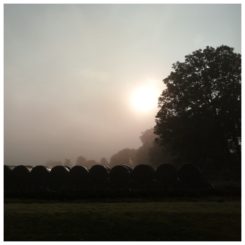 Arrival in Paradise
The headline is not a religious methapor, but literally how I would describe the arrival at our Airbnb in Ballymote. The 3-hour trip through Ireland's Hidden Heartlands had been very pleasant. Once off the motorway, windy country roads led us through lush meadows alternating between grazing sheep and cows. The mountain range in the distance was quite a contrast to the agricultural land dominating the area. The air after a short but heavy rain shower was fresh with a slight smell of silage lingering in the air. The temperature still hadn't dropped and with about 24 degrees, a mild summer evening was laying ahead. The perfect start of our family vacation.
Dreaming allowed
It is not that we live in a big buzzing city. We moved to the countryside because we love having nature around us. However our lovely seaside village of Greystones slowly but surely seems to turn into a medium-sized town with a lot of new property development going on. Too fast and too much for my liking.
When we started house-hunting in summer 2016 I had already dreamed of a country house in the middle of nowhere. But we decided to be sensible and not move somewhere too remote for various reasons.
Anyway, that doesn't keep me from dreaming. And the house we were going to call home for our 4-night family vacation was such a dream.
Dinner in the 'Greenhouse'
The hosts had already warmly welcomed our friends when we got there. We gathered around the long table in the conservatory, the Orangery, for dinner and a chat. What a great idea to have a dining area right beside vegetable beds full of tomato and cucumber plants filling the room with a gorgeous smell. Not to forget the water cress growing in a thick belt around the room.
Our 3-year-olds were excited to see each other. Little did they know they were going to have their first sleepovers in huge comfy beds waking up to the sound of cows mooing in the field across. But who was going to talk about bed time when there was so much to explore first?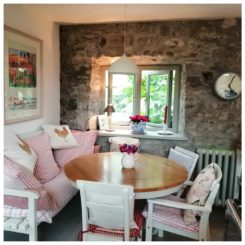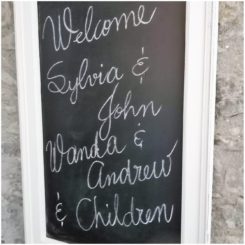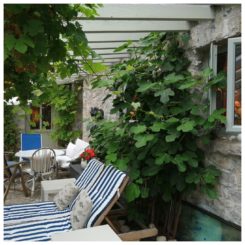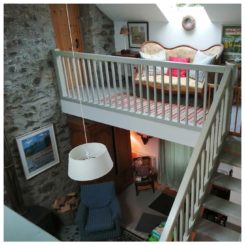 Welcome to Mediterranean Ireland
Grapes framed the door leading from the spacious country kitchen into the Orangery. They were ripe and sweet as we soon found out. Our kids much preferred them over the Spaghetti we had quickly prepared  for dinner. There were more grapevines around the door leading onto the patio with its almost Mediterranean character. Cosy sunbeds in front of the rustic stone cladding made it the perfect spot for a mild summer night. Two olive trees and a massive fig plant suggested we were not even in Ireland anymore, but somewhere in Southern Europe. No need to dream ourselves away though as we had discovered the perfect spot for our family vacation in rural Ireland and were looking forward to the next couple of days.
The Garden (Eden)
Robert, the man of the house, was doing a wonderful job keeping the fairy tale garden neat and lush for everybody to enjoy. With lots of space for the toddlers to run around (and literally no way to escape the property), they occupied themselves giving the adults some time to have a chat after breakfast. Or to tidy up the mess that their younger siblings had made eating.
Anyway, there was no rush to leave and go places as everybody was happy out staying in the house and garden. Berries, grapes, tomatoes and herbs freshly picked from the Orangery were the highlights for our busy little gardeners. Around noon we decided to leave the paradise for a trip to the beach.
Aughris Head on the Wild Atlantic Way
We never really got around to read up on things to do in the area before our spontaneous family vacation. Therefore we followed the first advice on the sheet our hosts had given us – which was Aughris Head on the Wild Atlantic Way.
Despite our late start, we were one of the first ones to arrive on the usually busy beach as we were going to find out soon enough. The sun was burning down and it was an absolute perfect day to spend by the sea. With the Beach Bar right beside it we knew we had picked the right place to be for the day.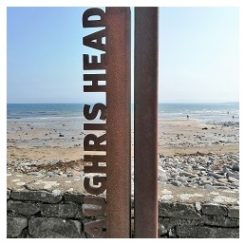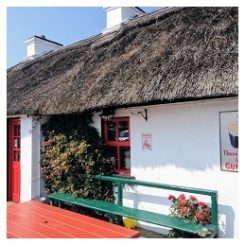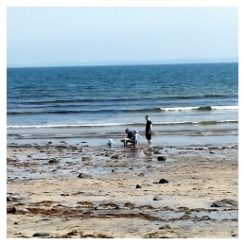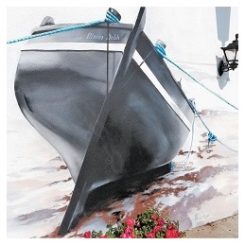 My First Time in the Irish Ocean
Convinced that I wasn't going to go for a swim in the sea I hadn't brought my swim gear. John had packed his wetsuit expecting the water to be as cold as back home on the East coast. I couldn't believe how much warmer it was compared to the Irish East coast. The shallow water and low tide had a huge positive impact on the temperature and I decided to go for a swim too despite lacking a swim suit. (No, not German nude style, I kept my clothes on!)
I had been swimming in the sea in Ireland before. On a surfing trip in October about 6 years before. I had been wearing a wetsuit though which would make this year's vacation the first time I was properly bathing in the Irish Atlantic. Another family vacation miracle.
Perfect Ending of a Perfect Day
When we arrived back 'home', Robert and his lovely wife (who was German by the way) had prepared a gorgeous BBQ as complimentary part of our stay. The fire was already blazing in the self-built fire pit. While we were waiting for homemade burgers and German Potato Salad, we sat around the fire chatting away to our hosts and hearing about their amazing story of how they had created this stunning place.
When darkness set in, we continued sitting outdoors in shorts and T-shirt in this totally silent environment except for our laughter echoing through the night. In Ireland you never get to sit outside in a T-shirt at night time without being freezing cold. The starry sky turned it into an almost corny setting. Was it God again or just the Gulf Stream in the West of Ireland causing this delightful summer night?
Must-See for Kids and Adults
For the next day we had planned to bring the kids to a bird sanctuary close by. It was hard getting them into the car as they were busy in the garden making 'salad' out of Robert's raspberry bushes. When we eventually left, our 3-year old fell asleep on the short drive to the eagles flying bird sanctuary. Even though he slept through all of the very interesting and entertaining bird show, it was an afternoon well spent. We got to pet the "Harry-Potter-Owl" (I am sure it has a scientific name too) and many other animals afterwards. Sorry birds, but the attached petting zoo with the cuddlier animals was our toddlers' favourite experience. But seeing these massive eagles and falcons fly and learning about them made the visit worthwhile for adults too. Definitely a must-see on a family vacation in Sligo! Thanks again to the eagles flying team for doing such a wonderful job!
Sligo from a Bird's Eye View
The trip to the bird sanctuary had set the bar high for any other activities to come. And still, thanks to Robert's advice we saw another unbelievably stunning place the next day. This time we saw Sligo from a bird's eye view.
We visited the Carrowkeel Passage Tombs which were quite high up in the Bricklieve Mountains. Beware that there is another Carrowkeel right beside the Megalithic Cemetery of Carrowmore, same distance but opposite direction from Ballymote. Our friends learned that the hard way when they ended up in the wrong place with their kids getting whingy in the backseats.
The drive and also the short, buggy-friendly hike up to the passage tombs (a little longer with small kids!) was beautiful. Although we didn't have a very clear view, looking down onto the lakes and the green fields of Sligo gleaming through the mist was beyond words.

'Newgrange' for free
When we got to the top of the hill (last bit without buggy!), we found 3 perfectly intact passage tombs. Like little huts made of rocks they were sitting in a line across the mountain. A local passer-by explained to me that there were several monuments built on hilltops in the region overlooking the landscape. She pointed out Knocknarea to me, a 320 m high mountain across from where we were. On its top I could make out the semi-circular shape of Queen Maeve's grave in the distance.
What a spiritual and natural gem Carrowkeel was and what great adventure for the kids peeping through the roof boxes of these impressive passage tombs. Ideal place to include a bit of history into your family vacation.
Why is a site with such historic significance like Carrowkeel almost neglected whilst another one like Newgrange turns into a mass tourism destination? A phenomenon I wrote about in my article "Abandoned in Ireland".
Self-Catering Spa Treatment
Again, back at our house we had another perfect ending of a perfect day. At least the girls of our little travel group. My friend and I had booked in for a massage that we conveniently received in the house by the lady of the manor. Whilst my husband dealt with the bedtime routine of our kids, I enjoyed my Indian head massage next door. Where in a self-catering Airbnb do you get an in-house Spa treatment? What a glorious finish of an unforgettable trip!
The Aftermath
When we got home the next day, my husband and I were still glowing. The vacation had fulfilled its purpose. Even our children, who slept through the entire journey, seemed to be giving us a grace period before we were about to enter our daily routine again.
Despite the usual family chaos including particularly early mornings with the kids and late nights by the fire, our short trip left us energised. Even the heavy rain on the drive down – whilst unsubtly marking the end of our vacation – couldn't change that.
When John opened our front door, he noticed how small our house felt compared to Carmen's & Robert's Country House Retreat. Whilst we loved our house, we were going to miss the wide and super-comfy double beds in Ballymote. However, it was more the thoughtful touches and cosy snugs that gave the modernised farm house its special character. 'In love' with Carmen's interior design, we decided to 'carmenise' our home, as we jokingly called it.
How 'c(h)arming' is that
Indeed there was much to learn from Carmen's knack for decorating. With small children in the house we were obviously restricted when it came to delicate objects. Nevertheless I liked the way Carmen had blended different styles, art works and decorations adding up to this picture book country house. Absolutely charming and with so much attention to detail it was by far more than just a fit for purpose accommodation. It truly was an oasis to relax and unwind, not lacking a single thing as far as I was concerned.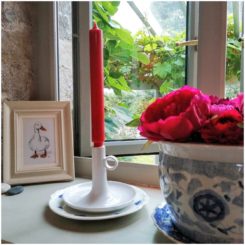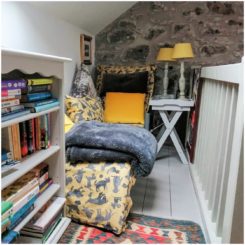 I'll join the 'Carmenites'!
Also Robert's and Carmen's life style seemed to be in line with what their whole environment conveyed. Something that I had only known from romantic movies before and absolutely adored: A lifestyle back to the roots, but with a very pleasant level of comfort. The weekly shop in the Farmer's Market, homemade bread, freshly cut flowers on the table, mostly homegrown vegetables – to only give a few examples. Combined with Carmen's and Robert's down-to-earth attitude, it really was something worth aiming for. Thanks to our short break in that wonderful little world of its own and the lovely chats with Carmen and Robert, I became cognizant of that once again.
A long-lasting Experience
I gained so much more from that vacation than just a great time with my family and friends. I also own a sourdough culture for the first time in my life now that I use for breadmaking exactly like Carmen. But all joking aside, I haven't had such an uplifting experience in a long time. The laughter with our friends by the fire. The quality adult-time and fun together as families. The warm summer air infused with all the gorgeous scents in the garden (including the one of the BBQ). The activities and getting to know another wonderful region of Ireland. Strangers welcoming us into their house and looking after us so well. We will be back, for sure!