Me and the Sea
18/06/2018
Being born "inland" the sea will always remain something special for me, even though I now have it at my doorstep.
I remember when I was a child my grandparents used to gush about their vacations at the Baltic Sea, a distance which to me seemed unreachable – or at least five long, sweaty hours in our Trabant. It would take a few more years before I  finally saw the Baltic Sea myself.
Funny enough  I went to the Mediterranean Sea first where I spent wonderful holidays with my family. I used to love lying on the beach feeling the warm air on my skin, surrounded by the lite scent of sunscreen and the pleasant sound of the waves. This was the beginning of a lifelong relationship.
It was more or less by accident that I ended up studying at Stralsund University right by the Baltic Sea. "Studying where others go on vacation" is their proud slogan. Sometimes a curse when you are sitting on the campus preparing for exams. However there were also moments when I was cycling along the "Sundpromenade" thinking to myself how amazing it is that I actually live here.
Afterwards I moved to Hamburg which too is maritime in its own way as it is perfectly situated between the coast of the North and Baltic Sea, and trips to either of them became a regular weekend activity for me.
A day trip to the beach of St. Peter Ording at the North Sea with a very good friend of mine is one of my favourite memories. Well wrapped up against the cool autumn breeze we walked between the amazing dunes facing the unspoilt view towards the horizon. And then rosy cheeked coming in from the bitter cold smelling of fresh air to enjoy a hot chocolate- nothing better.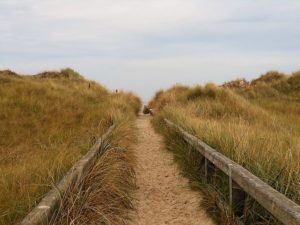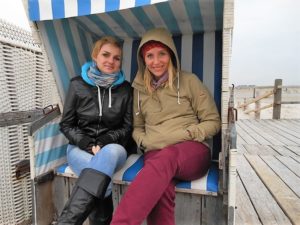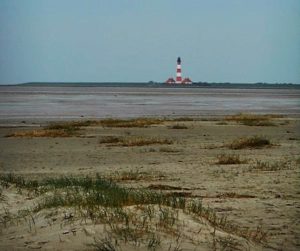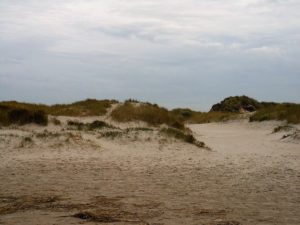 I left Hamburg for Dublin. Although being closer to the Sea wasn't the main driver, I really enjoy living on an island and being surrounded by water. And it's not just the ocean – Ireland's coast is so diversified, ranging from wide sandy beaches to rocky cliffs and secluded little bays. After a couple of years in Dublin City we now live as close to the Sea as we could get.  And now my husband is the one saying all the time "We live where others go on vacation" and I think to myself – so very true!
Footprints in the Sand
Back when I used to visit Dublin as a tourist, I always made sure I squeezed in a walk on one of the many beaches that Dublin is surrounded by. And that is not all that difficult. Within minutes on the train or bus you leave the buzzing city life behind. Suddenly the urban skyline disappears and the Irish Sea emerges as if someone just changed a movie setting. Each of the following beaches I am in some way connected to by a personal story or positive memories.
The Beach that changed my Life
I remember well sitting in some hotel in Dublin City on a rainy October morning. My mood wasn't the greatest since I had pictured my annual trip to Ireland slightly different. I had been looking forward to reuniting with the girls from my internship years ago and we usually all make it back to Dublin at least once a year. This year this wasn't the case, but I had decided to take the trip on my own anyway. Long story short, this is how I had ended up in a single room in a hotel instead of a messy 5-dorm hostel bed, seriously lacking motivation to go out and do something. I eventually managed since it was my last day before going home and decided for a walk on the mostly quite empty Killiney Beach. So I jumped onto the train and after an about 35-minute ride got out at a basically deserted beach. No one seemed to want to step outside in that miserable rainy weather, and I found myself  looking onto a wild ocean with grey clouds hovering above it. However with every step my spirits were lifting up under my huge umbrella. I reflected about my past, present and future and I am sure this was the moment when I decided to emigrate to Ireland. It's not that this walk alone was responsible for it, but I'd say it put the idea in my head. I knew that something had to change in my life and feeling that content despite missing company and pouring rain made me confident enough that this could work. Turns out it did.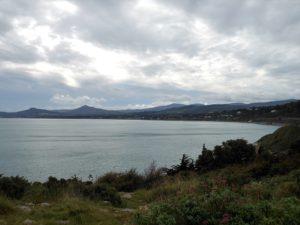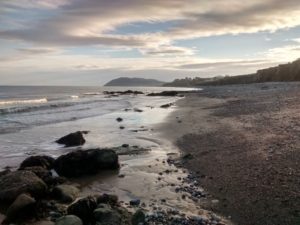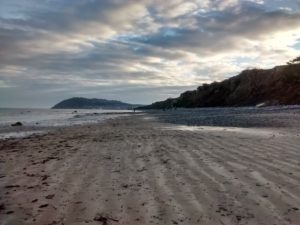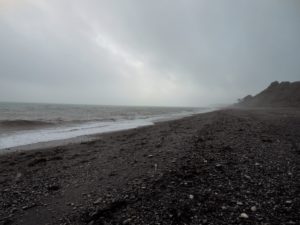 How else would you spend New Year's Day
Sandymount Beach used to be my husband's and my "Go-to-Beach" on the weekends when we were still living in the city. Its characteristic, actually ugly red and white chimneys are almost a landmark and I have always appreciated them since they help me with my bad sense of direction as they can be seen from quite a distance. During low tide the comparatively short beach is great for walking unless you are more the "waves-gently-rolling-against-your-feet-type-of-person". In other words – the water is gone and the sea only adumbrates on the far horizon. However don't rely on this like we did on a cold New Year's Day when we were suddenly surrounded by icy water that slowly crept in seemingly from nowhere. So we found ourselves barefoot in the middle of the Irish Sea, jumping over puddles that were expanding by the minute. Definitely a walk to remember…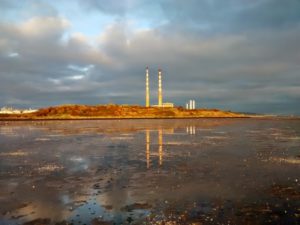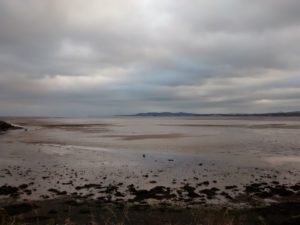 She sells Sea Shells on the Sea Shore
My fingers frozen and stiff from the cold won't keep me from collecting shells on the beach. It is as if a childish urge kicks in that makes me leap from one "little treasure" to the next. Hence this is what I did on a cold winter's day on North Bull Island. A storm must have been in the days before since the beach was laced with the most beautiful, perfect shells and tiny sea creatures. As usual I wasn't prepared for bringing my "goods" home and my pockets got heavier and soaking wet which still didn't make me stop picking up shells. However my husband isn't a big fan of my shell decorations all over the house I end up putting or giving them away. Anyway, for me it is not about owning or keeping them; it's the pure joy of discovering them on the beach, revealing them from underneath the sand, curious to see if they have yet another colour than the one before.
"Welcome to your Hen Party"
North of Dublin City is the Peninsula of Howth. Its prominent lighthouse on the very tip is a familiar sight when approaching Dublin on a plane. The Cliff Walk and Howth Head are the highlight for me rather than the beach. I also love the variety of (fish) restaurants and little coffee shops where you can reward yourself after climbing Howth Summit. Howth is perfect for exploring Ireland's spectacular coastline, enjoying a great view all over Dublin Bay and strolling around the picturesque fishing village or the marina. That is why we picked it for having our rehearsal dinner the night before our "spontaneous" wedding. The restaurant Wrights Findlater was a good choice too and after a nice dinner we stopped off at Howth Head to get a glimpse at the lighthouse that was just about to disappear in the dusk. We took a couple of great photographs as a reminder of a wonderful evening which my friend would later comment with the words: "Now you had something like a hen party after all."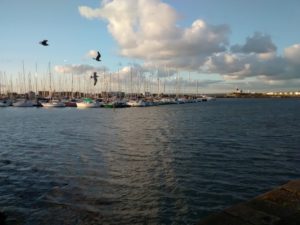 Carribbean, Australia? No, Brittas Bay!
When we plan a trip to Brittas Bay on the weekend there is usually no need to bring swimming togs. Going to the beach in Ireland doesn't mean going for a swim, but having a nice picnic, building sand castles and apply sunscreen factor 50. (Or eating sandwiches in the car when it's raining gazing onto the water without getting out.) Especially because there is always a cool breeze down by the water I underestimate the Irish sun on a regular basis. This summer, with temperatures climbing up into the high 20's, is definitely making up for the long and cold winter we had.
Even though Brittas Bay would be one of the most popular beaches in the region it's spacious enough for everybody to find their little private corner in between the dunes. The dunes are not only a great wind shelter, but also perfect for my husband to re-discover his inner child and roll down in the fine soft sand. Of course he never has to wait long for followers…
Therefore I can highly recommend the fabulous beach of Brittas Bay for young and old and everybody in between such as my husband and myself.
I love coming back to the beaches that I connect positive memories with. However once in a while I discover new little gems so that there will hopefully be many more anecdotes which I look forward to sharing with you.